Today was a top 10 day in Seattle. The cloudless day and warm breeze made it feel like we were in the middle of summer, not savoring the last day of summer.
Summer has not even ended and we are looking ahead to cooler days. Were we not just looking forward to the long days of summer?
What is it about the moment the weather gets cooler chili and soup dance through our mouths?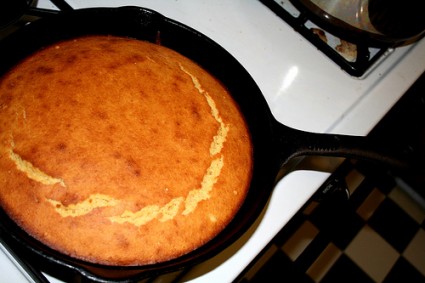 When I heard the weather report for today the high was to be in upper 60's but the low about 46 degrees. I could already feel the weight and how it feels to snuggling in for the night under my Grandma's quilt and an "extra" blanket as the night gets cooler. Suddenly I had an urge for Chili. You cannot eat chili without cornbread.
I have never made GFCF cornbread but i was really pleased with how this turned. It was a big hit!
GLUTEN FREE CORNBREAD
Ingredients:1 cup white rice flour
2/3 cup stone-ground cornmeal
2 Tablespoons of sugar
2 1/2 teaspoons baking powder
1/4 teaspoon salt
1/4 Cup plus 1 Tablespoon butter (divided)
2 beaten eggs
1 cup milk (reserve 1/4 Cup of milk to rinse out blender after pureed corn)
1/4 Cup of pureed sweet corn
1 Tablespoon melted butter
Directions:
* Preheat the oven to 400 degrees. Mix the dry ingredients (flour, cornmeal, sugar, baking powder, and salt) together in a medium size bowl and set aside.
* Melt the one tablespoon of butter in a 10 inch cast-iron skillet or 8/9 inch round baking pan in the oven. This takes about three minutes. Swirl the butter around the pan coating the bottom and sides. If you do not have a cast iron skillet, you may butter up a casserole dish.
* In a small bowl, combine the eggs, pureed corn, milk, and melted butter. Add this mixture all at once to the flour mixture and stir until just moistened. If it is too thin sprinkle a little cornmeal over top of mix.
Pour batter into the hot skillet or baking pan. Bake for 15-20 minutes or until a wooden toothpick comes out clean. Serve warm.
Please note that if you are using a glass casserole dish time will vary.