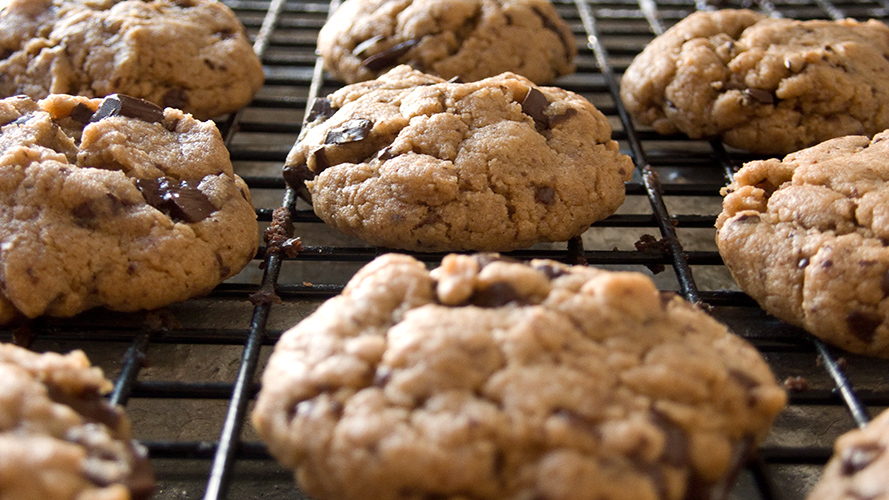 Yummy, ooey, gooey chocolate chip cookies. Makes my mouth water just thinking about them. I stopped at PCC in Edmonds this morning to pick up a few things our local grocer does not carry.

While I was in the Bob's Red Mill section picking up pizza crust (see post about pizza~we love this crust mix) I spotted on the shelf a chocolate chip cookie mix. I thought this would be a nice after school treat for the kids. So I purchased a bag.

After getting home and putting my spoils away I prepared the mix. It was simple enough.. an egg a stick of butter and water. The directions said the mix would be crumbly. It resembled the Betty Crocker GF cookie dough I tried last week which is drier and more crumbly than non-gf cookie dough.

I am the kind of cook that must taste everything as I go. I am mean, who does not love raw cookie dough? Oh my golly, this stuff tasted HORRIBLE! It was very bitter with a gross after taste. Nothing I was expecting. Last week my oldest made banana bread for the youngest to take to girl scout camp. I noticed it had a some what bitter "after taste". I thought she had added too much ginger! Today I realized she had used the Bob's Red Mill Baking Mix. Hmmmm, I am beginning to see pattern here.

Luckily for the kids I had picked up a Betty Crocker GF Chocolate Chip Cookie Mix which I quickly whipped up. **These cookies are so yummy. They have a little bit of a grainy texture but until I find a perfect cookie recipe these will do. The kids like them. That to me is a score!
** Dbl the vanilla. it makes the cookies creamier and yummier.

Bob's Red Mill GF chocolate chip cookie mix- EWWWWWWWW
Betty Crocker GF chocolate chip cookie mix- YUUUUMMM
Happy Baking!
~Blair